Secure Your Livelihood
Keep your business and employees safe with us!
Protection for Your Business
When it comes to your business, you need to protect it from a potential break in. This is especially important if you have sensitive information onsite such as tax forms, employee social security numbers, and much more. We can help you easily control who has access to your building. Our company will help you figure out the best way to keep those bad guys outside where they belong. This starts with your perimeter doors and locks and continues inside with a variety of access control products utilizing either standard lock systems or the latest high tech on the market.
Some Commercial Solutions We Offer
Master Keying

Panic Hardware and Lever Locks

Electronic Access Control

Check out Alarm Lock Trilogy access control systems&nbspHERE
Electric Strikes - H.E.S. Products
Full line of file cabinet and drawer lock solutions Olympus Locks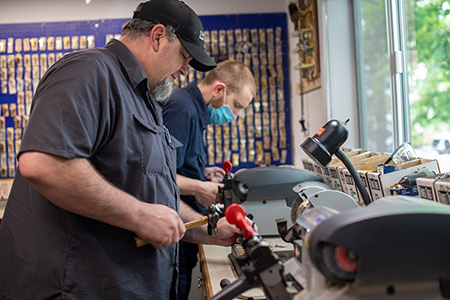 Masterkeying a series of locks in an apartment or commercial business is a very powerful tool at our disposal. The ability to have one key to operate many locks while also having many different keys to operate individual doors or groups of doors can be a useful way to manage the locks at your facility.
That being said, we all need to be very careful with this ability. If not properly managed, the security of the system can be compromised very easily. First and most important- DON'T LOSE THE TOP LEVEL MASTER KEY!!!

If that has happened, you must go into emergency mode and re-key all the locks as soon as possible. The master keys most powerful feature is also it's weakest link. The biggest mistake most people make is handing out too many master keys. At most businesses it seems just about everyone thinks they should be one of the folks who carry that key. In reality only very few people should have that key. The more master keys issued, the greater the possibility for a problem. Most mid-level managers can be given a lower level key, or several different keys to allow them access to the areas they need to unlock.
If you hire a locksmith with a strong background in this field, (our company for example!) the system can be set up with both security and convenience in mind. It is very important that proper master keying rules and record keeping be observed, or total chaos follows. When designed properly, the key charts give you a complete record of how to cut all the keys while also allowing room for future expansion. We keep all of these records for you in secure storage for your future needs. We can tell you how each door is keyed, how many copies of each key we made, and if we need to re-key a door or group of doors we can assure you that there will be no unintended consequences.

The worst kind of master keying performed by too many, is just fly by the seat of your pants style. No records are kept, interchanging key combinations is common. Keys work in other doors where they shouldn't. This is a huge liability as bad things have happened many times worldwide because of problems such as these.
We utilize master key software programs on our computers to generate most of our systems which allows for fast, quick chart generation with no errors. We know how to do these charts by hand the old fashioned way, but as it can be a time consuming, labor intensive process we use the computer unless the system is very small. Back in the days before computers, I used to charge hefty fees for larger master key charts as I might spend many hours drawing them up. Many times now I might only spend a few minutes doing the same thing and the charge is either waived or is nominal.
One of the most important ways to increase the security of any key system is to utilize high security key blanks and locks. There are many companies that produce high security locks, such as "Medeco", "Schlage Primus" and others. These are locks that do several things for you- they offer pick resistance as well as true key security. These keys can only be duplicated by authorized people at the shop they originate from. So if you have keys issued to employees or tenants you do not have to worry about any of them having unauthorized keys duplicated.